EL PASO, TX – Facing a crisis of unheralded proportions, medicine intern Edwin Veracruz is mulling over any and all options as he realizes mid-poop that there is no toilet paper (TP) in his immediate vicinity, officials at University Medical Center of El Paso report.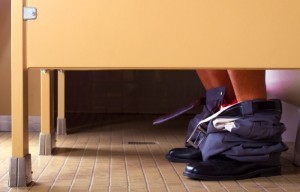 "God above, if there is one time you could grant me the platonic ideal of a no-wipe poop, now is that time," Veracruz begged to the skies above, though his view was obstructed by the shoddy ceiling and artificial lighting of the staff bathroom.  He pressed in palms together in prayer.  "Please… Please…"
With his pupils fully dilated from his seated position, Veracruz scoured every nook and cranny for another roll of TP but it was to no avail.  Brainstorming suitable backups, Veracruz visually surveyed for the presence of tissue paper or towels by the sink.  Nothing.
Veracruz urgently assessed the restroom walls for a paper towel dispenser only to find an environmental hand dryer.  He mulled it over greatly but concluded it was unlikely he could blow away the tire tracks.  Veracruz was desperate now.  Realizing he had one option left, he reached for his phone to text a colleague for assistance.  But then he realized his mistake: he left his phone and pager at the nurses station so he could poop in peace (PIP).
Experts familiar with this rare but common sh*tuation say this is a make or break moment in Veracruz's life, not just as a health care professional but as a person.  It may define him until his dying days.  They make no light of this critical moment.  In fact, it can only be described by one word: dire.  And all because he didn't assess toilet paper status before pulling down his pants.
The world holds their breath as Veracruz ponders his next move.  If you were Veracruz, what would you do?