GREEN BAY, WI – In a stunning turn of events, entire OR teams including Anesthesia kneeled today during all surgical timeouts today at Bellin Hospital. The shocking display of unity against the hospital administrators has sharply divided the medical community across the globe.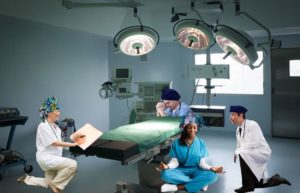 The impetus of the mass genuflection was a lone General Surgeon, Dr. Bessie Jandle, who refused to comply with the mandate from Joint Commission that all OR staff wear bouffant scrub caps. Jandle started kneeling during timeouts in protest over a year ago, but no one paid much attention to it even after his contract with Bellin Health was not renewed.
This summer, several other isolated surgeons started kneeling during their own timeouts which caught the attention of Bellin Health hospital administrator Timofy Weeber MPH, MHA, GED, POS. Weeber demanded that all departments fire any and all surgeons who refused to stand for timeouts. Weeber's demands, which he didn't have the authority, ability or spine to enforce, actually served to galvanize and unite the entirety of the OR staff.
In OR 2, every person in the OR including the patient dropped down to a knee arms interlinked for the timeout. Numerous other OR's had similar happenings with 75% of all OR teams dropping to a knee or sitting down for the timeout. When word started to spread of the protests, several anesthesiologists claimed that they have been sitting down during timeouts and even entire cases for years.
Meanwhile in OR 4, Ortho also took a knee and replaced it with a better one.