BOSTON, MA – 56-year-old patient Richard Brambling is fuming after plastic surgeon Dr. Fabio Ricardalsen removed the incorrect pannus.  Brambling, not wanting gastric bypass surgery, just wanted a layer of his adipose tissue removed so he could head to the beach this summer without a shirt on.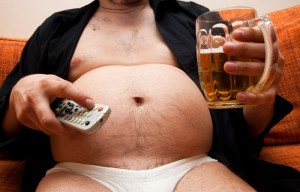 "I'm furious!" stated 437-lb. Brambling.  "Dr. Ricardalsen mislabeled the panni and he worked on the wrong damn pannus.  I look horrible now!"
Dr. Ricardalsen described the labeling and marking process as "very difficult" and "redundant."  According to the medical records, there were 7 panni identified, although there is mention of "redundant tissue and folds with Candida and fuzz that makes proper identification difficult."
The surgical consent states "removal of 5th and 6th pannus" and preoperatively Dr. Ricardalsen signed both panni on the patient with a surgical marking pen.  During positioning of the patient, the adipose tissue most likely became displaced, thus creating an 8th pannus.  Dr. Ricardalsen inadvertently removed the 6th and 7th panni instead of the 5th and 6th.
"I really don't know what the big deal is," says Dr. Ricardalsen.  "I took off about 20 lbs. of adipose tissue in the area he wanted.  I apologize if I took the wrong pannus."
"I'll tell Dr. Ricardalsen what the big deal is," says Brambling.  "It's my fat and I didn't want that particular bulge gone!  I like to rest my beer glass on that ledge, and now it's gone, all thanks to Doc here.  I was hoping to take my shirt off at the ocean this summer, but now that plan is on hold!"
Court proceeding begins on Monday.