Donald J. Trump and all of the Trump Organization LLC invite you to enroll in the inaugural class of the Donald J. Trump School of Medicine.  If Mr. Trump loves one thing, it's making America great.  If he loves a second thing, it's turning people into doctors to help accomplish that first thing.  Healthcare is changing and it's time to get in on the ground floor.  The ground floor of one of Mr. Trump's luxurious high-rise corporate offices for a 3-day introductory seminar to learn how YOU can start doing doctor work!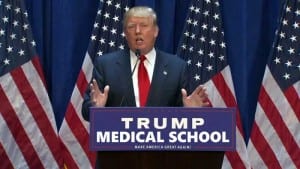 The government would like you to believe that doctors should abide by the Hippocratic Oath.  Well, there's a reason it's called the Hippocratic Oath.  Hippocrates looked like a hippo!  A big, fat hippo!  And we all know people who look like hippos can't help themselves, much less all of mankind through the power of doctor work.  That's why Mr. Trump has developed a revolutionary medical school curriculum to help you accomplish your dream of being a doctor and making millions of dollars.
Our 3-day seminar goes over the nuts and bolts of doctoring and how our med school can help you achieve your dreams.  Then, if you have the courage and desire to make hundreds of millions of dollars, you can enroll in our medical school for a deposit of $10,000, which is a drop in the bucket compared to the boatloads of money that doing doctor work brings.
Mr. Trump's curriculum covers all the important doctor-related tasks over the course of 3 exhilarating months.  You'll learn how to fix people's hearts and minds.  You'll learn all the basics of bones, muscles, guts, and brains.  Maybe you'll be able to fix the brains of those fat cats in Washington, am I right?
At the conclusion of medical school, you will leave with the prestigious TD or "Trump Doctor" degree.  An MD is for liberals with skinny pants.  A TD tells the world that you had the perseverance and a 3-month opening in your schedule to become a world leader in health care.  We look forward to working with you to Make America Great Again!
Sincerely,
Donald J. Trump