SILVER SPRING, MD – To celebrate National Nurses Week from May 6 to May 12 this year, hospitals and clinics across the country are saying "Thank you!" by suspending all charting, disabling all call lights, and allowing them to go on bathroom breaks for the next week.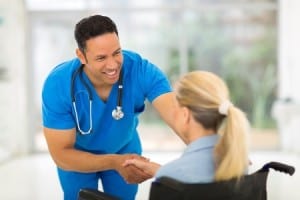 "To go a whole week without having to chart or chart when and what we are charting is a dream come true," said CEO of the American Nurses Association (ANA) Marla Weston, PhD, Rn, FAAN, as she wiped away some tears.  "Charting is too much, too evil.  I mean, look at these hands?"  She held up her bloodied and battered fingertips.  "And you don't even want to know what our feet look like."
"Just a few moments of silence would do wonders for nurses' migraines," said nurse Colette Winters, as she took a pair of scissors and went from room to room severing patients' call lights.  "Can I go disable the IV pumps while I'm at it?  It's as easy as snip, snip, snip!"
"Yes!!!" exclaimed nurse Ron Tavares, excited for Nurses Week.  "You mean, I can actually take out my Foley and use the bathroom for real?  I've never been allowed to take a bathroom break in my life and I've never ever seen the inside of a bathroom at work.  This is so exciting!"
The Accreditation Council for Graduate Medical Education (ACGME) has released a statement stating that interns and residents shall say "Thank you" by "trying not to screw up" or "get in the nurses way" this week.
By noontime today, it is rumored that all books of delivery menus will be restocked to ensure that "no nurse shall ever go hungry, let alone perish," as stated in the bylaws on the inside of every book of delivery menus.
Pyxis machines will say "Thank you" by trying not to suck, though they said that "this cannot be guaranteed."
Finally, all patients coming into the hospital and clinic this week are being reminded to "be nice, be patient, not be a total pain in the a** for once, and say 'Thank you' every once in a while."