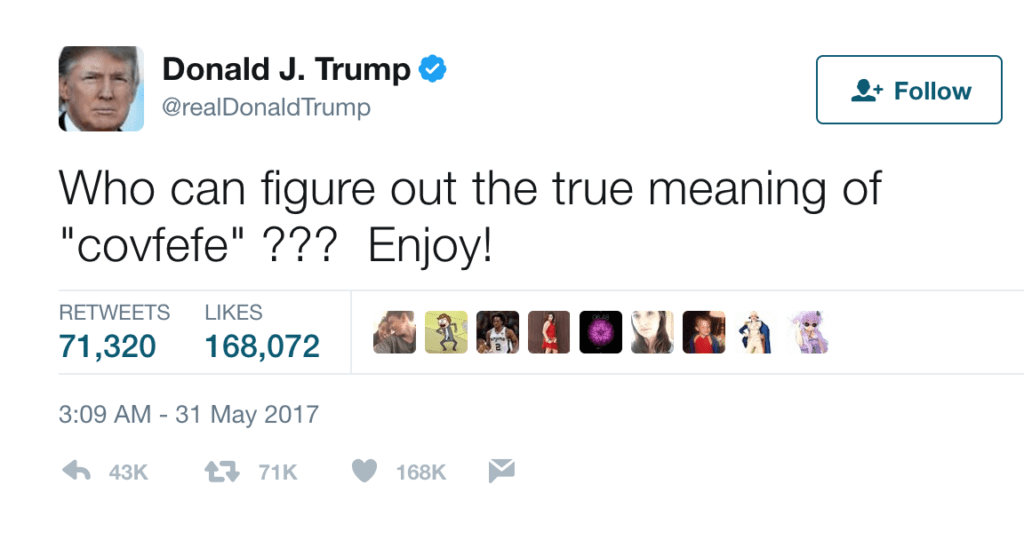 The world remains baffled: first President Donald Trump tweeted the term "covfefe," then orthopedic resident Ken Wilker writes the one-word note "covfefe." What does it mean? Depends who you ask. Gomerblog asked medical subspecialties what they thought "covfefe" means and here's what they guessed.
Allergy: A third-generation antihistamine.
Anesthesiology: New airway classification system to replace Mallampati.
Bariatric Surgery: Synonymous with panniculus.
Cardiology: Acronym for cardiac output v–fib ejection fraction ectopy?
Cardiothoracic Surgery: A technically-difficult CABG.
Critical Care: Code for "botched intubation."
Dermatology: A malignant skin lesion.
Emergency Medicine: Drug seeker.
Endocrine: The latest DPP-4 inhibitor.
ENT: Used interchangeably with "oral cavity."
Ethics: A conundrum or dilemma.
Family Medicine: Nuclear family.
Gastrointestinal: A method of removing polyps.
General Surgery: Akin to an obstruction, initially treated with conservative management.
Hematology: An urgent order given in response to anemia, it means "cover with iron, IRON!!"
Hospitalist: A patient who is a rock.
Infectious Diseases: The Covfefe virus is an acute serious illness that is fatal if left untreated.
Nephrology: Modified version of the Cockcroft-Gault equation.
Neurology: Part of the basal ganglia, located between the caudate and putamen.
Neurosurgery: Infected VP shunt.
Nursing: Either stands for "contact precautions for fevers, felines" or is a new curse muttered when the IV starts beeping.
Nutrition: Sorta like Boost or Ensure.
OB/GYN: A really terrible yeast infection.
Occupational Therapy: A patient who won't cooperate or participate.
Oncology: Another word for metastasis.
Ophthalmology: A layer of cones.
Orthopedic Surgery: The 207th bone in the human body.
Palliative Care: Slang for "medical power of attorney."
Pathology: Three consecutive frozen sections.
Pediatrics: A stuffed animal.
Pharmacy: A unit of measure equal to 30 milligrams.
Physical Therapy: Like a commode. As in a 3-in-1 covfefe.
Plastic Surgery: A rare material used in breast implants.
Psychiatry: Acute psychosis.
Pulmonary: A lot of phlegm.
Radiology: Shorthand for "clinically correlate."
Rheumatology: A connective tissue disorder that responds well to steroids.
Social Services: A type of form that needs to be filled out prior to placement.
Speech Therapy: When a patient fails a modified barium swallow.
Trauma: Another term for "circling the drain."
Urology: A urologic emergency, similar to priapism.
Vascular Surgery: Sorta like a bruit, but not quite.