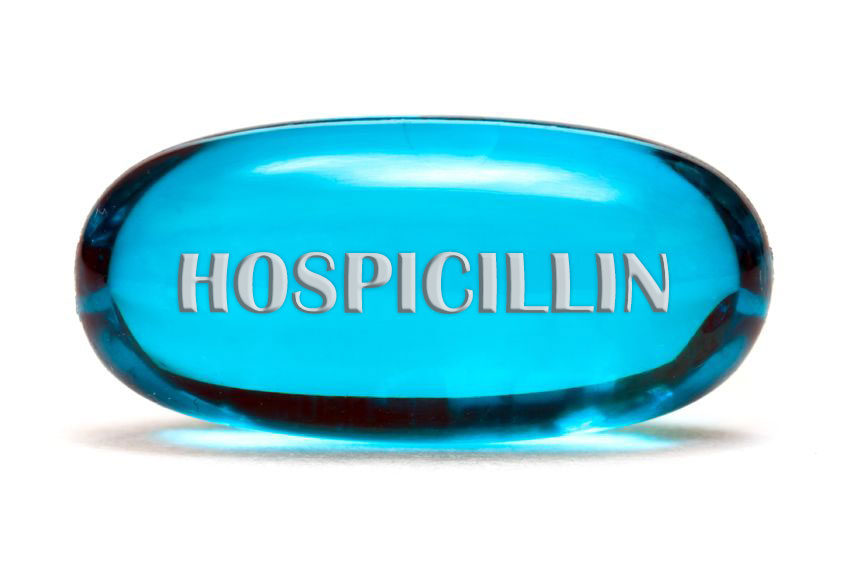 WASHINGTON, D.C. – Today the Food & Drug Administration (FDA) approved a powerful new palliative care medication called Hospicillin for use in patients who are Full Code when they should really be DNR.  The review was fast-tracked thanks to heavy backing from health care professionals.
"This medication is not intended for those rare patients who realize death is a part of life and are DNR," explained Erica Oliver, a spokesperson for DwD Pharmaceuticals, the developer of Hospicillin.  "It is intended for those patients with unrealistic expectations who are still somehow Full Code; the Fullest Code Possible; or DNR Tuesdays, Thursdays, and Saturdays."
Hospicillin is a combination pill containing one-third fentanyl, one-third common sense, and one-third reality check.  It is a one-time dose that has immediate onset of action and peak effect within 60 minutes.  An end-of-life epiphany occurs within two hours and, thanks to the infinitely long half-life of Hospicillin, patients will not only change their mind and become DNR, they will stay that way.  Expect no waffling back between Full Code and DNR either.
Hospicillin was developed with the input of numerous types of medical professionals in the hopes of swaying those who insist upon Kitchen Sink Codes to maybe, perhaps, consider an alternative route that focuses on quality of life, time at home, time with family, and death with dignity.
"Our sincere hope is that we can turn Slow Codes into DNRs, and make the dying process a little more meaningful for patients," Oliver continued.  "As much as we love performing chest compressions in order to get our upper bodies into shape, this is something we are willing to give up if it makes patients and their families happier."
Hospicillin is not related to penicillin, so health care providers need not worry about the Full Code patient with a penicillin allergy.  Hospicillin also has a favorable side effect profile, though it may cause stomach upset, and costs only $0.05 per pill.  Said Oliver at the end our interview, "If we can dispense condoms at will, why not Hospicillin?"