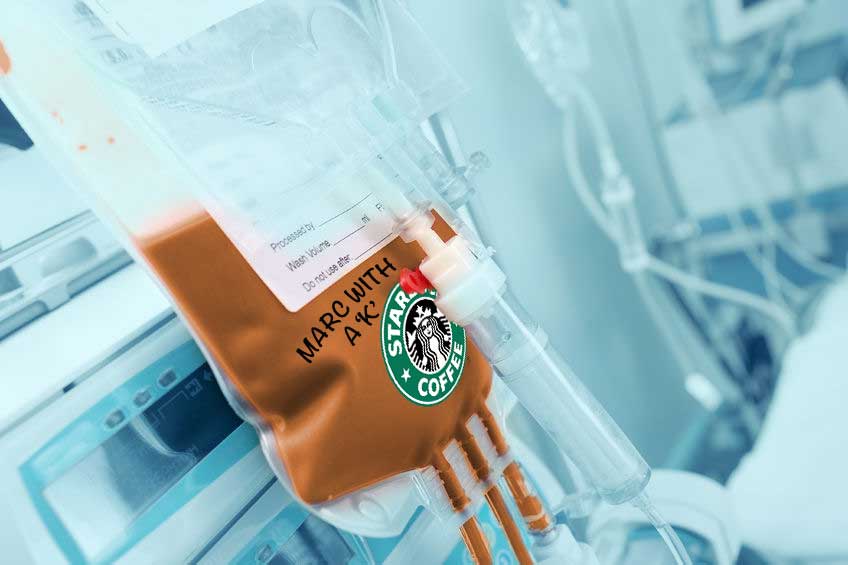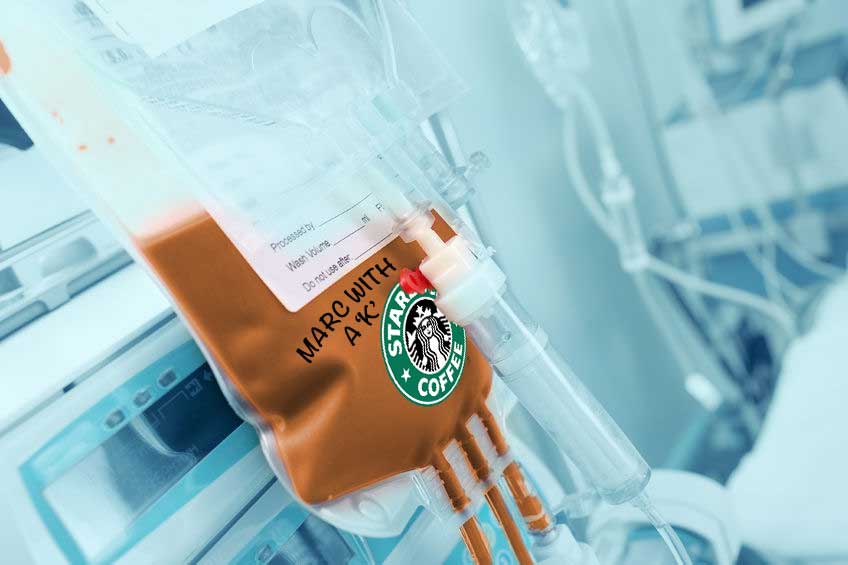 SEATTLE, WA – To help mitigate caffeine withdrawal in its hospitalized customers, Starbucks will be partnering with inpatient pharmacies for a limited time to provide Frappuccino drips and infusions to those who need it most.
"We were astonished to learn from our friends at Harborview [Medical Center] that patients with alcohol withdrawal are given benzos and patients with tobacco withdrawal are given nicotine patches, but patients with caffeine withdrawal get diddly-squat," remarked Starbucks President and CEO Kevin Johnson. "We saw this as a huge opportunity."
Johnson's vision initially involved health care facilities in the Seattle area, but realizing that this was a nationwide problem soon expanded the operation to involve hospitals across the country.
Patients with caffeine withdrawal will now have access to any of Starbucks' numerous Frappuccino drips: Caffe Vanilla & Caffe Vanilla Light Frappuccinos, Caramel Cocoa Frappuccino, Caramel & Caramel Light Frappuccinos, Chai Creme Frappuccino, Cinnamon Dolce & Cinnamon Dolce Light Frappuccinos, Cinnamon Roll Frappuccino, Coffee & Coffee Light Frappuccinos, Cupcake Creme Frappuccino, Double Chocolaty Chip Creme Frappuccino, Great Tea Creme Frappuccino, Horchata Almondmilk Creme Frappuccino, Java Chip & Java Chip Light Frappuccinos, Lemon Bar Creme Frappuccino, Mocha & Mocha Light Frappuccinos, Red Velvet Cake Creme Frappuccino, Strawberries & Creme Frappuccino, The Pokémon Go Frappuccino, Vanilla Bean Creme Frappuccino, and White Chocolate Mocha Frappuccino to name a few. This is a limited-time offer only, but Johnson has declined to say when it will officially end.
Starbucks baristas have paired with pharmacists, and are undergoing crash courses to learn how to properly introduce coffee into IV bags. From there, rapid IV push is the preferred method of administration, though it can be slowly-infused to prevent one's veins from burning.
"We anticipate this to be a healthy partnership and may even be more wildly popular than our Unicorn Frappuccinos," Johnson added. The Unicorn Frappuccino was offered for only 4 days in April 2017. "The fact we can get the Starbucks logo at a patient's bedside, call that a win."