WASHINGTON, DC – Prior authorization – the time-sink, inefficient, and soul-sucking process used by health insurance agencies to determine and eventually deny coverage for a wide range of medications, services, or procedures in order to destroy the morale of health care practitioners and obstruct adequate care for a wide variety of patients nationwide – now requires prior authorization.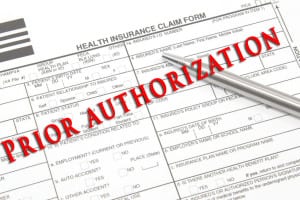 "Damn you!" sobbed one anonymous primary care physician uncontrollably.
"The purpose of prior authorizations for prior authorizations is to provide cost savings by preventing unnecessary prior authorizations," explained a spokesperson for health insurers in the United States.  GomerBlog was only able to speak to this spokesperson after prior authorization.  We are unable to provide the spokesperson's name since that too requires prior authorization.  We hope his or her name will be available within the next 30 business days.
So how does this process work?
Let's say a health care practitioner wants to order a life-saving blood transfusion for an exsanguinating patient.  He or she contacts the insurer to determine if prior authorization is required.  If prior authorization is required, then the health care practitioner contacts the insurer again to determine if prior authorization is required for the prior authorization.  If the answer is yes, the health care practitioner deciphers, fills out, and submits the prior authorization form, after which it will either be lost or denied.  The insurer will carry out its role of being completely useless.  Thirty days later, the patient will have died.  One day after that, the prior authorization for prior authorization will be approved and the prior authorization process for blood transfusion can finally move forward.
Health care practitioners across the entire nation are frustrated with the prior authorization process in general.  According to the medical board in the state of New York, there are only a total of five medications, services, or procedures that do not require prior authorizations by insurance agencies: air, water, baby aspirin, soap, and haircuts.
"Damn you!" repeated the inconsolable anonymous primary care physician once more while on the verge of either red tape-induced seizures (RTIS) or quitting medicine once and for all (happiness).  "What have we done to deserve this???"