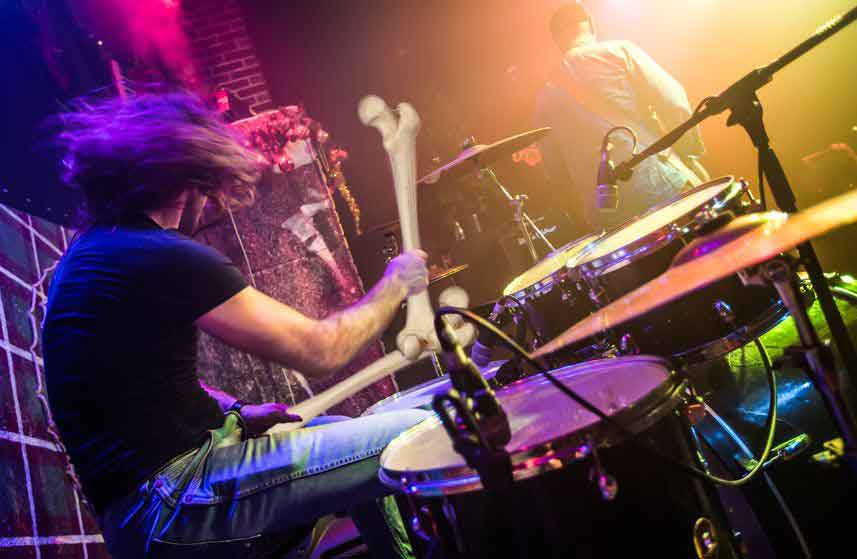 BIRMINGHAM, AL – Orthopedic surgeon Jake Crusher came home today supremely excited: it was his day off and he just bought a brand new drum kit, something that he's been dreaming of getting for years now.  But in the excitement to get home, he forgot to buy some drum sticks.  No problem for this orthopod.
Crusher explains his quick thinking.  "I called Brock [Hammersley], I knew he was in the middle of a case, some bro with a tibial plateau.  I was like, 'Dude, got this killer drum kit but forgot drum sticks.  Can I borrow some bones?'  That's what I call thinking on your feet.  You can always count on The Hammer, he always comes through.  Especially in a crisis.  And believe me, this was a crisis."
Hammersley was more than happy to oblige.  "Crusher's my boy," Hammersley exclaimed, admitting that he and Crush have shared many a bro hug.  "Sure, I was in mid-case, but when Crush has gotta play the drums, he's gotta play the drums."  As expected, Hammersley didn't let Crusher down; he resected both of the patient's femurs as they would undoubtedly create the most noise.  And then going one step further, he scrubbed out of the case to hand-deliver the femurs to Crusher and watch him let loose.
"It was the friggin' bomb," roared Hammersley with his right hand in the air, making the sign of the horns with his gloved and bloody right hand.  "He started with 'Smells Like Teen Spirit' – man, I love that f**king song – then Guns N' Roses' 'Paradise City' – that drum opening is killer – and then 'Seven Nation Army'…"  Hammersley is giddy, laughing.  "I could've been there all day, but then I was like 'Bruh, I gotta take those femurs back and finish up [the case]!"
Crusher insisted the patient wouldn't notice, but Hammersley disagreed.  "Dude, have you ever seen a patient without femurs work with PT?  It's so sad, bruh.  You gotta have them femurs!"