BOSTON, MA – GomerBlog is on hand to report that a record number of internists and hospitalists have attended this year's American College of Physicians (ACP) Internal Medicine Conference 2015 in Boston.  Though this is wonderful news for the world of internal medicine, especially on the 100th anniversary of the ACP, surgeons worldwide have been left behind struggling to manage difficult conditions like normotension and euglycemia.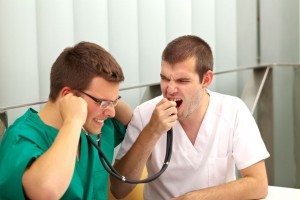 "Why am I to do?!" cried general surgeon Thomas X. Lap, as he watched his patient with no history of hypertension remain stable with normal blood pressures.  "I need an internist, a hospitalist, someone to cover my pager at night!"
"This is beyond my scope of knowledge," said orthopedic surgeon Brock Hammersley, performing hourly blood glucose checks on a euglycemic patient.  "Should I check an ECG or an echo?  Maybe I should just transfer him to the ICU so they can write a note."
In addition to normotension and euglycemia, surgeons are distressed over temperatures of 37 degrees Celsius, heart rates ranging between 60 and 100, and oxygen levels dropping to 99%.  Since the start of the conference on April 29, zero medication reconciliations have been performed by primary surgical teams nationwide.
Though some internists, hospitalists, and other internal medicine subspecialists have come to the ACP Internal Medicine Conference to increase their fund of knowledge and get up to speed on topics ranging from novel anticoagulants and new FDA-approved medications to social media and health policy, most have really shown up to stock up on pens, more pens, and other free crap, even if at it's the expense of deserting their surgical colleagues.
"I don't even know what this is," said internist James Longnote, holding up a free plastic thingamajig made by some company that does something related to medicine somehow.  "Who cares?  It's free!  I'll never use it but it's free and that's all that matters!"
Surgical colleagues plan to welcome back their internal medicine and hospital medicine colleagues with open arms, but after a 24-hour honeymoon period will return back to normal and resume calling their bogus consults.  Until then, surgeons will just have to manage.
"CALL A CODE!!!" screamed urologist Peter Tinkles, his patient's white blood cell (WBC) count skyrocketing from 6.2 to 6.9.  "FOR THE LOVE OF GOD, WE NEED A DOCTOR!!!"