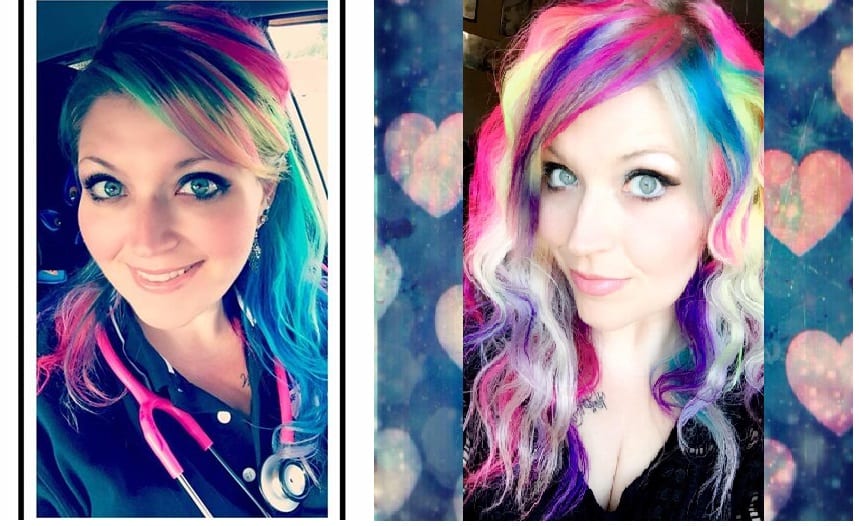 Last week, Nurse Mary Penney was in line at a store when a cashier critiqued her appearance and found it surprising that she was able to hold a job at a nursing home.  Mary has purple, pink, blue and green hair, some piercings, and several tattoos.
The cashier in question couldn't believe she worked as a nurse and stated, "I'm surprised they let you work there like that.  What do your patients think about your hair?"
She went on further to say that "they don't allow that sort of thing" in her profession and in the fast food industry.
After posting her story to Facebook, it has gone viral.  GomerBlog is happy to report that the cashier has been fired from her position due to "a rude and narcissistic personality."  Her boss elaborated:
"We shouldn't be so quick to judge people based on their appearance.  In fact, I don't want any of my employees judging people and questioning their ability to care for others.  That's why I fired her.  I'd rather have an employee like Mary Penney working for me with purple hair and a kind heart, than a dull, judging, narcissistic traditionally dressed employee."
Probably the best quote from Mary was:
"My tattoos have never kept them from holding my hand and as they lay frightened and crying because Alzheimer's has stolen their mind."
GomerBlog salutes you Nurse Mary Penney.  Keep doing whatcha do!!