NORTH POLE, CANADA – Reports are coming in from all over the North Pole that Santa Claus is sporting a svelte new physique this Christmas season, and the word is out that he secretly underwent a gastric bypass for morbid obesity over his summer vacation.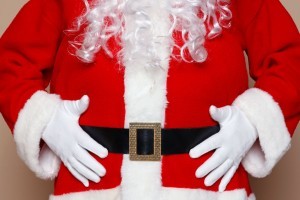 "Yes, it's true, Santa is a changed man," declared head elf Buddy Jingle Jr. to the press who had hastily gathered at Holly Jolly Train Station.  "Decades of neglecting his health, combined with a lack of exercise due to extensive sleigh-riding and delegation of present-leaving duties to an army of elves, led Santa to become extremely overweight.  Not to mention the tons of cookies and milk.  Literally, tons."
"But now, thanks to the dedicated team at the Nuuk Bariatric Clinic in Greenland," continued Jingle Jr., "Santa has lost nearly 90 pounds and feels a whole heck of a lot better.  Thanks, Dr. Wilks!  Someone sure has earned a permanent stay on the nice list!"
According to anonymous Workshop sources, Santa had developed severe complications due to his body mass index of 53, including sleep apnea requiring a festively adorned CPAP machine, candy cane-associated insulin-dependent type II diabetes, and recurrent panniculitis.
"I'd say a bowl full of jelly was a huge understatement," said one anonymous elf.  "The man was gigantic."
"I also heard Mrs. Claus complaining about St. Nick not really being able to slide down the chimney very often anymore, if you get my meaning.  Though she's pretty drunk a lot of the time so you have to take that with a grain of sugar."
Unconfirmed reports indicate the inconveniences of an overly portly Santa were beginning to take their toll on North Pole staff, including the need for fourteen reindeer, the expense of retrofitting the sleigh with a retractable wheelchair ramp, and frequent midnight tirades in which Santa would angrily demand a gallon of egg nog and three dozen gingerbread cookies.
"I know not everyone will prefer the new skinny Santa," said another elf.  "But trust me.  This had to happen.  I was there the night when he got wedged in that fireplace with his arms behind his back, so he couldn't put his finger next to his nose and shoot up the chimney, and Buddy and Jingles had to pry him out of there, and this kid saw the whole thing and cried for like a month.  It was a nightmare."
At press time, Santa's appearance at the conference was cancelled as he was scheduled to undergo body contouring and a panniculectomy in time for Christmas Eve.