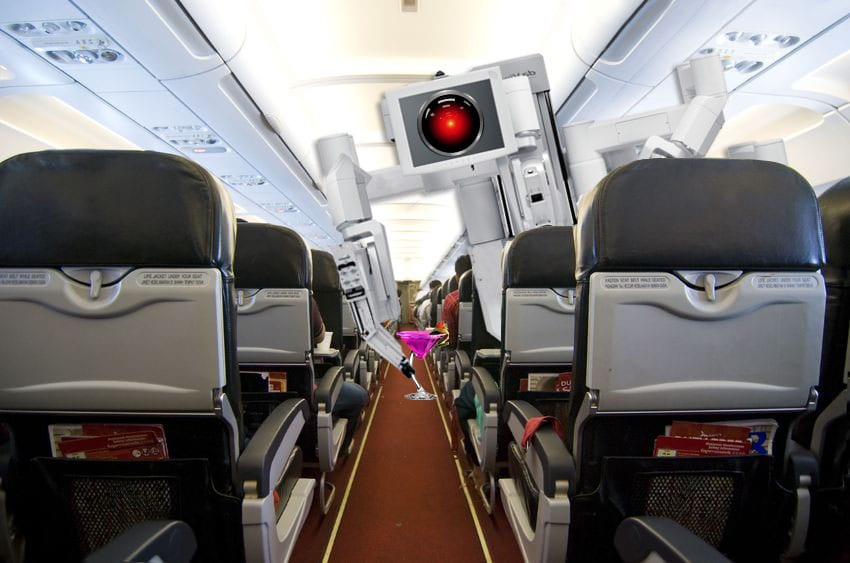 UNITED AIRLINES, MID-FLIGHT – Twenty minutes into Flight 156 from Los Angeles to Tokyo, a medical emergency took place.  "Do we have a doctor on the plane?" the flight attendant asked over the loud speaker.
Da Vinci took 15 minutes to put down his drink and get up from his chair.
"Are there any surgical techs on the plane that can wheel up our helper to the front of the plane?" the flight attendant asked.
"HERE TO HELP, BEEP BLEEP," said Da Vinci.
"This man just passed out!" a passenger screamed.
Da Vinci demanded he be put in extreme Trendelenburg.  To help with this the surgical techs pushed Da Vinci back to his seat so he could grab some blankets.  Then after the delay Da Vinci started CPR immediately.  Each chest compression was perfectly deployed.
"Wow, those compressions look precise enough to peel a grape but strong enough to perfuse the brain!" a passenger shouted in amazement.
Compared to standard CPR the Da Vinci's was slower than the typical 100 compressions per minute (CPM) needed to maintain adequate perfusion.  To make matters worse Da Vinci had to be restarted after 30 minutes into the code because a student backed up into him and shut him down.
Miraculously, the code lasted almost 14 hours but the patient was saved just before landing.  The outcome was the same as human CPR, and Da Vinci may be FDA approved for code blues throughout the hospital.