NEW HAVEN, CT – The National Doula Organization (NDO) made an announcement yesterday that they are offering SCUBA classes for their doulas to help assist in water births.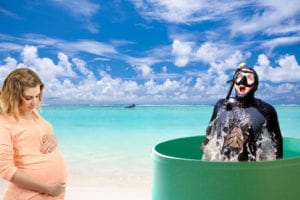 "It was only natural to offer this unique service once we had the ability to deliver babies in large water filled containers," NDO chairmen Linda Peterson stated.  "With deeper and deeper water, we knew we had to improve our training."
Products such as the AquaDoula are used at home and hospitals for water births, but the main issue was access to the baby during and after delivery.  "Doulas with short arms were having problems reaching in to assist during a delivery," said Peters.  "Holding our breath just wasn't effective for longer labor or deep water.  Being in a wetsuit with oxygen and a mask gets us as close to the action as possible and lets us stay in the game much longer."
Future plans include use of oxygen and helium mixtures to allow longer and deeper doula dives.  "Adding helium mixtures to our doulas will allow deliveries in much larger bodies of water such as swimming pools, rock quarries, and even the ocean once we obtain deep sea certification," proclaimed Peterson.
"Eventually we hope to train obstetricians in SCUBA just in case they are needed underwater for emergencies."