WASHINGTON, DC – The Drug Enforcement Agency (DEA) and the Food and Drug Administration (FDA) are absolutely baffled to hear about recent allegations of abuse with fentanyl lollipops.  Apparently the rising abuse has caught both agencies completely by surprise.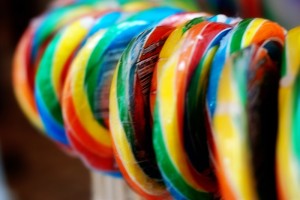 "I just don't get it," proclaimed DEA agent Matt Dinkens.  "I don't think anyone could have predicted how easy it would have been to abuse fentanyl lollipops."
"Drug users are getting very high tech these days," Dickens went on to say.  "With Google and YouTube, some very smart drug abusers posted a page that demonstrated how to abuse fentanyl lollipops, and now it is the next craze."
The idea seemed to arise in Seattle when a drug abuser, who couldn't get his usual "fix," decided to try fentanyl lollipops that "Jolly Green" from down the street left at his house.
Instead of just licking one lollipop, he licked all 7 and kept them in his mouth at the same time.  The craze was born and the DEA and FDA are perplexed at how they missed this potential source of abuse.
The DEA is looking into process improvements in order to avoid this embarrassment again.  A spokesman said, "We have decided to hire a few toddlers for our committee to test placebo drugs.  They may be able to help us crack down on identifying ways to abuse drugs by bringing in a different perspective."
An unidentified agents working on the approval was overheard saying, "I think we would have picked up on the lollipops being a bad idea for mass distribution once we saw those kids in action."